Weirdest foods from around the world
Are you ready to travel and try new flavors? Here there are some special dishes from .
Escamoles, Mexico
Escamoles are the larvae of a venomous ant species that lay their eggs deep down in the roots of agave or maguey plants in Mexico (so harvesting them is not a barrel of laughs). The larvae are said to have a consistency akin to cottage cheese and taste somewhat nutty; they're normally eaten as the filling in a taco or omelette.
Shirako, Japan
As euphemisms go, this one's a corker: shirako in Japanese means "white children" but refers to the sperm sacs of either cod, angler fish or puffer fish. Looking like white blobs of goo or miniature brains, they are said to have a sweet custardy taste.
Tuna eyeballs, Japan
It's waste not want not when it comes to tuna in Japan; even the eyes are plucked out and served up cheap in supermarkets. To cook, simply boil or steam, and season with garlic or soy sauce. Perhaps unsurprisingly, it tastes a little like squid.
Balut, the Philippines
This fertilised duck egg, with its partly developed embryo inside, is boiled alive and then eaten from the shell with salt, chilli and vinegar. You're supposed to tap a hole in the top of the shell, sup the savoury liquid and then crunch down the rest of what's inside – feathers, bones and all. Bleurgh.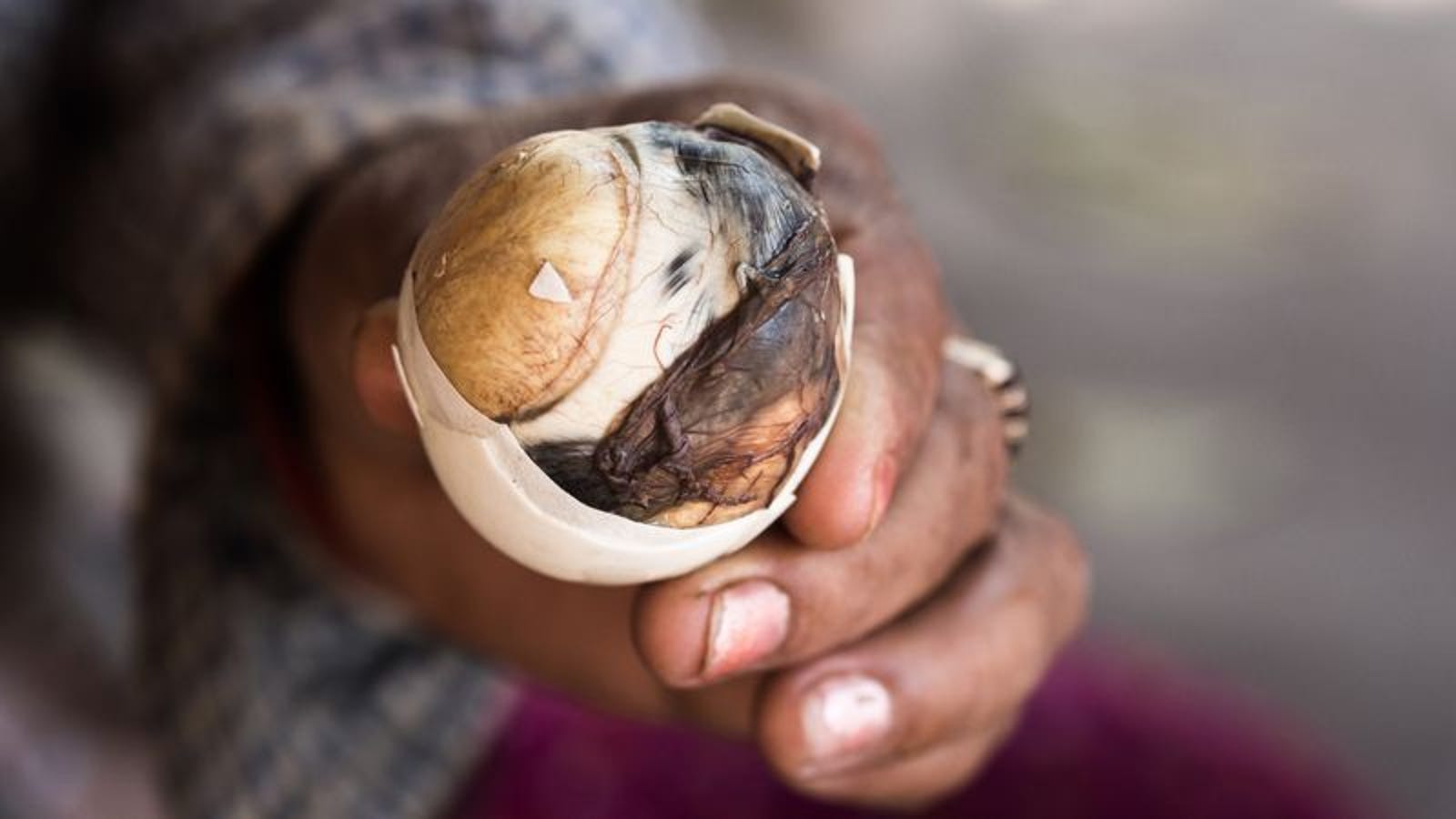 Crispy tarantulas, Cambodia
Few people would look at a tarantula and think "lunch", so it's perhaps no surprise that these spiders were first eaten by Cambodians starving under the Khmer Rouge regime. Bizarrely, they became popular and are now served as a deep-fried snack throughout the country. Apparently they taste a bit like crab.
White ant eggs soup, Laos
One of the world's more unusual soups, Gaeng Kai Mot Daeng combines a mixture of ant eggs and partial embryos from the white ant, plus a few baby ants to add sourness. If your stomach can handle it, the flavour is supposedly quite tasty: sharp and delicate, and a little like shrimp.
Jellied moose nose, Canada
Nose isn't exactly a choice cut, but that hasn't stopped some adventurous Canadians from experimenting with nasal gastronomy by boiling them up with onions and spices, removing the hair, boiling again, then slicing and covering with a broth that sets into a jelly. It certainly looks as bad as it sounds.
Casu marzu, Italy
Known as "rotten cheese", Sardinia's casu marzu is made from Pecorino that has gone bad – really bad. The larvae of cheese flies (piophila casei) are added to the Pecorino, hatching inside, burrowing around and digesting the fats. The result is a weeping, tongue-burning delicacy that you can eat with or without the maggots.
Hakarl, Iceland
How anyone conceived of this dish is a mystery. To prepare: first gut and behead a Greenland shark, place in a shallow grave and cover with sand and stones. Leave for two to three months, then cut into strips and dry for several more months before serving: first-time tasters are advised to hold their nose and try not to gag.
Locusts, Israel
Israel has of late been suffering from a plague of locusts, but fortunately this is the only insect to be considered Kosher, so Israelis have been eradicating the pests in a unique way: by eating them. Deep-fried and chocolate-covered locusts are apparently going down a storm (no pun intended).